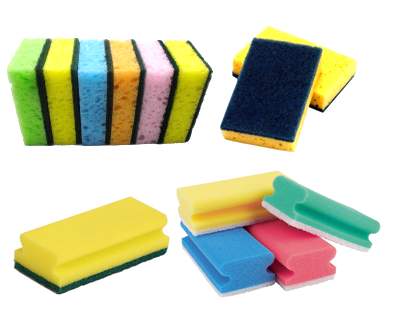 The HPHF polyester foam is the purest highest quality of scouring sponges in the market. Made of a polyester foam density of 26kg/m3 and glued to the strongly resistant Italian imported fiber 850g/m3, this scouring sponge will last up to 8 weeks in strong detergents.
- Exra strong cleaning powers thank to the thick antibacterial foam layer and scrubbing that side cuts through tough messes, particularly on stubborn & burned in dirt.
- Gradual detergent release thanks to the micro-porosity of the sponges.
- Sponges with grooves on the sides designed for a better grip & to protect nails.
- Innovative antibacterial heavy duty scrubbing sponge which stops the build-up of bacteria in the foam.
Our selection of scouring pads can take on both light and heavy-duty cleaning jobs, no matter how delicate or rough the surface is. The foam and scouring fiber comes in all shapes, sizes and colors for different working areas and effectiveness. The factory provides businesses and wholesalers their own private label range of products with their own exclusive properties and designs.