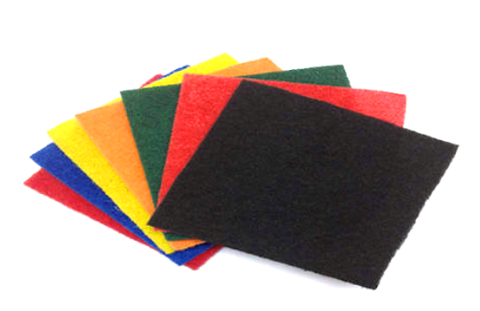 - Heavy duty scour pad with tough fibers and abrasives to clean grills, ovens, stove burners, broilers, barbecue grills, food processing equipment, garden tools, wall stains and garage grease.
- Removes easily and efficiently all baked-on food from pots and pans.
- Made of durable fibers that are pressed together to develop a strong scrubbing performance.
- Constructed with resin to help resist degradation from exposure to hot water and strong detergents.
- Imported from Europe.
- Available in different densities and thicknesses.
- Available colors: Black, Blue, Green, Red, Orange, Yellow & White.
Black for heavy duty and deep cleaning (such as BBQ, garages...).
Green, Red, Orange and Yellow for everyday tasks (such as cleaning dishes, kitchen surface and worktops).
Blue for delicat kitchenware (such glass and cutlery).
White –for all non scratch items such as crystals, china, chandelliers and delicate bathroom surfaces to remove soap marks and toothpaste residues.
- Sizes available: can be cut in different sizes and shapes.