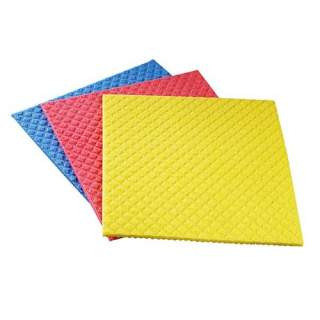 - Cleans effectively streak free all surfaces in the kitchens, countertops, bathrooms, cars and gardens.
- Absorbs up to 10 times its own weight in water as it wipes like a cloth and absorbs like a sponge.
- Washable, reusable and biodegradable.
- Perfect carrier for water, soap and hard detergents.
- Remarkably durable and highly resistant to tear and abrasion.
- Made from cellulose and cotton fiber.
- Imported from Europe.
- Available colors: Blue, Pink & Yellow.
- Sizes available: 18 x 20 cm.
20 x 20 cm.